Services
Plumbing Services and Service Plumbing
Your first Choice for Rooter Plumbing, Slab Leak and Water Leak Detection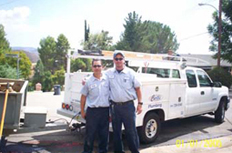 Encino is a city located in the golden state of California. Address plumbing services within the city, Encino plumbing services is one of the premier plumbing services out of the many located within the city. They're a company dedicated to the quality of their work and costumer satisfaction. In the following paragraphs, other plumbing services will be identified, and we'll see why they don't stack up against Encino plumbing Services.
Plumbing services in Encino include: Encino plumbing Services, Jon's Plumbing and Rooter, Discount Valley Plumbing & Air Conditioning, Monkey Wrench Plumbing Co, and many others. These are a few of the leaders in plumbing in Encino, and rightfully so. Many of these business have been in the area for a long time, Encino plumbing Services has served the city for over 32 years, which is one of the longest lasting plumbing services in Encino. That certainly speaks to the quality of their work, businesses don't last for 32 years if they aren't devoted to quality.
We do Diagnosis, Installation, Maintenance, Repair, and Replacement of the following and more:
Backflow Preventers
Drains
Electronic Leak Detection
Faucets
Garbage Disposals
Pumps
Pipes
Remodeling
Septic System
Sewer Connections
Swimming Pool Pumps & Boilers
Toilets
Tub & Shower Renovation
Underground Water & Sewer Breaks
Video Inspection of Drains & Sewers
Water Filtration Systems
Water Heaters
To name a business in particular, Jon's Plumbing and Rooter service would certainly appear to be the most popular plumbing business in Encino. They're rated first on a google search, and have several reviews/rating that have resulted in a 4.8/5.0 rating overall. This is certainly impressive, but when you visit their website, it is very utilitarian. It's simplistic, and not extremely useful, which is an extreme downside to an internet-based consumer. Monkey Wrench Plumbing Company, however has a very nice and modern website design, with graphics, social networking links, and costumer testimonials. The website is commendable, but it feels very much like a large corporation, instead of a business devoted to serving its community. The only pluming service within Encino, that gives an aura of community service is Encino plumbing Services. From their backdrop photo of classic Encino, to their simplistically designed yet extremely useful website, to their written breakdowns of services they offer, Encino plumbing services showcases their connection to their community.
Why Choose Us?
Complete Plumbing & Drain Services
Available 24/7
Emergency Response Service
Licensed & Insured Professionals
Loyal & Staisfied Customers
State-of-the-Art Equipment
Reputation for Quality Work
No Job is Too Big or Too Small
Trusted & Reffered For 32 Years
Encino plumbing Services also has unmatched customer service in the city. A mystery caller gave Monkey Wrench Plumbing, Jon's Plumbing and Rooter, and Encino plumbing services a call, and Encino plumbing services was by far the most friendly. Monkey Wrench Plumbing was apathetic to help when asked for a price on a toilet installation, and although Jon's Plumbing and Rooter did seem friendly and willing to help, they seemed unorganized, having to set the phone down for nearly two minutes while they scrambled to find information to answer a simple question. Encino plumbing services was both friendly, and efficient, delivering an estimate very quickly.
The choice of plumbing service within Encino isn't particularly an easy one considering the vast variety of them. Upon research though, any consumer will find that the consumer service and dedication to quality work at Encino plumbing services is unmatched by any other in the area.